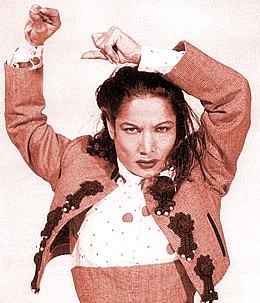 The 100th birthday of Carmen Amaya, one of the legends of flamenco dance and song, will be observed in 2013. Barcelona, the native city of the legendary 'Queen of the Gypsies,' is already beginning to celebrate the centennial with the opening this weekend of the 1st annual Carmen Amaya Festival, organized by
the
Tablao del Carmen, one of the venues in the
city's open air museum Pueblo Español. The event features guitarist
Tomatito
, singers
Remedios Amaya
and Montse Cortes, and flamenco dancer Manuela Carrasco
, winner of Spain's National Dance Award in 2007.
Amaya never formally studied dance or voice, but began from the age of 4 as a street performer with her father. From the streets of Barcelona, she went on to perform on the city's stages before moving on to conquer the nation's capital, Madrid. When the Civil War broke out in 1936 she left Spain and began traveling and performing in the great cities of the world, including Lisbon, London, Paris, Rio de Jainero, Buenos Aires, Santiago, Caracas, Bogotá, Havana, Mexico City, and New York, where she debuted at Carnegie Hall. She went on to appear in Hollywood movies and in 1944 performed at the White House for President Franklin D. Roosevelt. After a decade abroad she returned to Spain as a wealthy international star.
She continued to perform and travel the world over, including one more visit to the White House, this time at the invitation of President Harry S. Truman in 1953. Ten years later Amaya died of kidney failure at only 50 years of age.
Speaking to the newspaper El Periódico about this weekend's tribute, Tomatito, who is
a world renowned
musical artist himself
, said that he hopes to demonstrate the 'connection' his playing has with the wild fury of Amaya.
"My guitar is connected to her. I am a Gypsy, just like Carmen."
Describing her as the greatest of dancers, Tomatito recalled stories that when people from his native Andalusia learned that unlike them she did not originate from the birthplace of flamenco, but rather from the northern region of Catalonia, the bemused attitude was usually one of, "Well, we all have skeletons in our closets."
Video clips:
Clips from the documentary "
QUEEN OF THE GYPSIES, a Portrait of Carmen Amaya
"
Carmen Amaya in "Follow the Boys" - 1944
Carmen Amaya y su troupe por Bulerias - 1961